The earliest followers of Jesus were marked by their love for one another. Their love was total, it was selfless and without compromise. You could spot a Christian by their love. It was often said, in referring to the earliest Christians, "See how they love one another."
As a community of believers in Ealing this is how we want to be seen. We want to be known for our love. Why? Because through seeing our love for one another; our love for our neighbour, for strangers, even for those who would seek to hurt us, we hope that people will see the very real love of God.
We pray they would also see that God loved us first. All of us, and He calls us to an intimate, personal, life changing relationship with him. Come encounter the God who loves you.
"Let us consider how to stir up one another to love and good works, not neglecting to meet together, as is the habit of some, but encouraging one another, and all the more as you see the Day drawing near."
Hebrews 10:24-25
"And they devoted themselves to the apostles' teaching and fellowship, to the breaking of bread and the prayers."
Acts 2:42
"You cannot pray at home as at church, where there is a great multitude, where prayers are cried out to God as from one great heart, and where there is something more: the union of minds, the accord of souls, the bond of charity, the prayers of the priests."
St John Chrysostom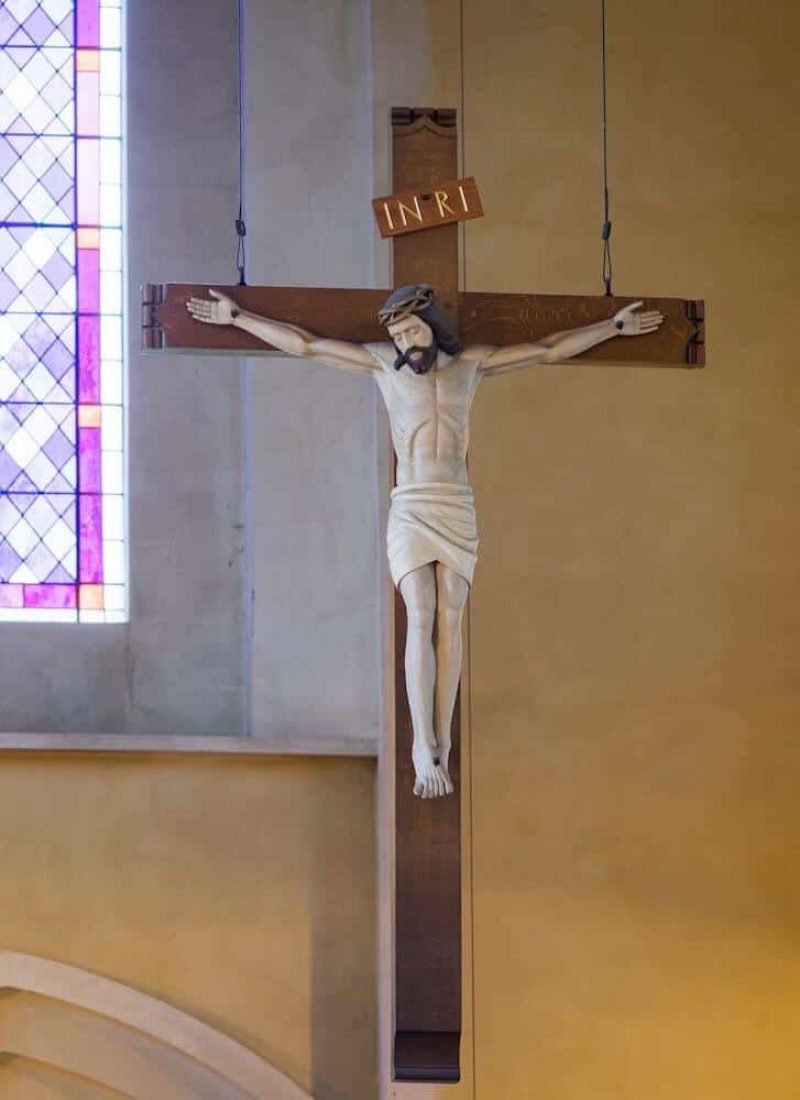 As a Catholic community we gather on Sundays to worship God and receive our spiritual nourishment. For so great is Jesus' love for us that he could not leave us orphans without food. Jesus provides for our spiritual life by feeding us with his very Body and Blood, as he said he would. "
This is the bread which comes down from heaven, that a man may eat of it and not die. 
I am the living bread which came down from heaven; if any one eats of this bread, he will live for ever; and the bread which I shall give for the life of the world is my flesh." John 6: 50-52
The multitude who heard Jesus proclaim this realised he meant it. It divided them; some believed, others walked away. From the beginning of the Church, Christians have gathered on a Sunday to celebrate the fact that God feeds his children in Holy Communion. This has been believed throughout the centuries because they have all believed that Jesus was God, that his words are true and Holy Communion is really Jesus' Body and Blood for our nourishment. If this is true, why would we want to stay away from his offer of his own self, for even a week?
Fr Ambrose McCambridge OSB
Parish Priest
Fr Timothy Gorham OSB
Parish Father
Deacon Gordon Nunn
Parish Deacon
Krysia Carr
Parish Pastoral Coordinator
Maggi Curtin
Parish secretary
Deacon Ian Edwards
Parish Deacon
Deacon Alex
Burke
Parish Deacon
Daniel Ferguson
Catechetical Coordinator
Jim Welsh
Safeguarding Representative
Suzanne Nunn
Safeguarding Representative
Makalita Kautoke
Safeguarding representative
Abbot Dominic
Taylor OSB
supporting parish
team
Support the Mission of the Church.
Small efforts make big change.
Mass Intentions
If you would like to arrange a Mass to be said for a loved one, please contact the Monastery Office on 020 8194 2300.
Note: Intentions not announced on Monastic Community Masses (Mon-Fri 7am; Sat 9:15am; Sun 10:30am Masses)
Guest House Bookings
Hiring Facilities
Baptism Inquiries
Marriage Preparation
First Holy Communion
Confirmation
Pastoral Support
Estate Manager
Parish Office Address:
Parish Office
2 marchwood Crescent
ealing
london
w5 2dz
020 8194 2301
parishoffice@ealingabbey.org.uk
Parish Office
Opening Times:
phone & Email only
*Closed 10:30am-12pm
Mondays for Team meeting
Monastery Office Address:
Monastery Office
Charlbury Grove
Ealing
London
w5 2dy
020 8194 2300
ealingmonk@ealingabbey.org.uk
Monastery Office
Opening Times:
Phone & Email Only
The world is constantly moving, whirling, spinning, onto the next thing. Jesus stands still. He is the still point in a turning world and He calls us here.
Church opening Times:

Monday - Friday
6:00am - 7:00pm

Saturday
6:00am - 7:00pm

Sunday
8:30am - 8:00pm
"When you approach the tabernacle remember that He has been awaiting you for twenty centuries."
Stay connected with
St Benedict's