You matter to God
You matter to us
EALING ABBEY COUNSELLING SERVICE:   
A non-demoninational counselling service offering 1:1 service and couples' counselling.  For appointments call 02081942290 or email 
counselling@eacs.org.ukEALING ABBEY BEREAVEMENT SUPPORT: 
This is 
not
a counselling service. 
The Abbey Bereavement Support Group
 offers a confidential listening service for anyone who would like to talk (at this present time, by phone) about their grief.  Please telephone 
020 8194 2302
(where you can also leave a message in confidence),
eNEWSLETTER and BULLETIN:
   If anyone knows of any parishioners who may be isolated and/or have no access to a computer/parish website, and think they might like to receive a NEWSLETTER/BULLETIN by post, please phone
the pastoral coordinator on 02081942302 (where you can also leave a message).  
Please remember to
ask their permission first for data protection purposes .  Thank you
VOLUNTEERS IN COVID TIMES:  
Many of you will have already signed up as NHS Volunteer Responders in the spring. They will still need your help.  Members of the public can sign up quickly and easily at 
GoodSAM
 to become NHS Volunteer Responders, and can be called on to do simple but vital tasks.
SELF REFERRAL:  
Self-referrals from isolated individuals can also be made by calling the
NHS Referral Support Team on 08081963646
AGE UK: 020 8567 8017
* HOUSEBOUND OR ISOLATED?
If anyone knows of a parishioner who might
feel cut off from the Abbey
due to being
housebound,
or
isolated
, please let the parish office know
020 8194 2301 / 2. 
 We can pass on referrals to our
Abbey SVP
conference, with their permission.  If they
would like
a bulletin, we can arrange for a bulletin to be
sent out
to them.  Large print copies are available on request.
CAP (Christians Against Poverty)
run a regular Job Club
EALING JOB CLUB – CAP (Christians Against Poverty) is continuing to support job seekers back into employment.
The Ealing CAP Job Club meets on Tuesdays 10:30am to 12:30pm at St Paul's Church, Ridley Avenue, W13 9XW. 
For clients who need that bit of extra support finding and applying for jobs, we offer a friendly, supportive environment. All job seekers are welcome at the club (whether or not they are in receipt of benefits) provided they are willing to commit to attending every week for the duration of the course.  Over the 8 years we've been running the club, at least a third of job club members have found employment, and many others have moved into volunteering and training as part of their progression into paid work. 
Here's some recent feedback:
"The Job Club helped me be more confident and organise my skills better."
"It helped me put a plan in place."
"Helped me construct an entire new CV."
"Having the chance to meet new people and being listened to was really helpful."
Please phone 07473004435 for more information
or email juliasarson@capuk.org
for more information about the work of Christians Against Poverty capuk.org
The St Barnabas Food Pantry
is part of St Barnabas's ministry and community outreach efforts to help to provide for families who are struggling in these very difficult times.  We are not part of the Food Bank network founded by the Trussell Trust Network and do not require referrals in the way they do. We are open to any residents in the Parish/Borough who are in need.  We are very happy to receive donations and after a couple of lean weeks after Christmas are short of the following items:-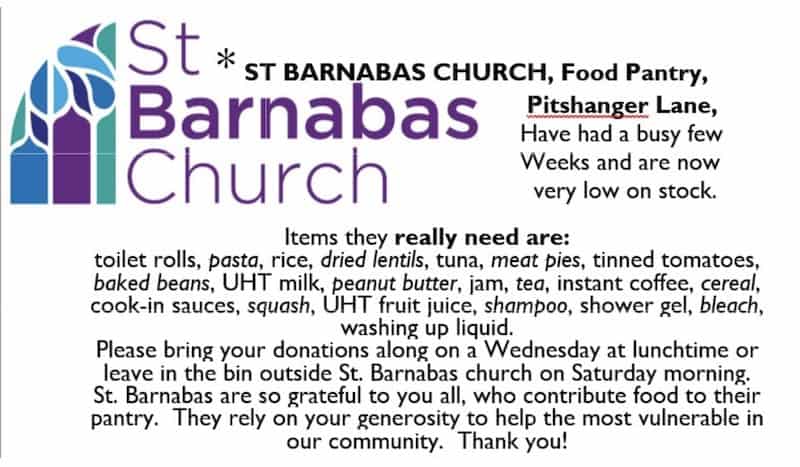 Dear Donors, thank you so much for your continued support!  March has been an incredibly busy month; we provided 3 day food parcels to 3639 people in just one month. We really appreciate your continued support and donations as we look forward to what will probably be another very busy month.
* Volunteer with JRS UK
Get involved in something to serve others – the Jesuit Refugee Service UK has several volunteering opportunities that might be of interest. If you would like to accompany destitute and detained refugees, there are many ways you can make a big difference. Find out more:www.jrsuk.net/volunteer/
* Donate Your Old Phones and Tech to Support Refugees
JRS UK is looking for donations of your old phones and technology to provide refugees with the means to stay connected during this difficult time. This technology helps refugees access vital support, legal advice and stay connected with loved ones. If you have an old phone or tablet sitting in a draw, do get in touch with JRS! For more information visit: www.jrsuk.net/news/donate-your-smartphone-and-make-a-difference/
* CAFOD  The Paradox of Abundance  Over 800 million people go hungry each day. Yet the world produces over 4 billion tonnes of food and we only need 3.7 billion tonnes to feed everyone. From all this food produced, a third is wasted. St John Paul II called this 'the paradox of abundance.' Clearly the currently global food system is not working. But as Pope Francis said, "Each of us has a role to play in transforming food systems for the benefit of people and the planet." Let's respond to his call! CAFOD's new campaign is called FIX THE FOOD SYSTEM. See www.cafod.org.uk/food  for more information, including an invitation for parish groups to learn about the impact of our food with our Fix the Food System: a 7-station journey resource.
* VOLUNTEERING for CAFOD  A vital aspect of church is people being willing to share their talents, experience and energy. Could your New Year's resolution be volunteering for CAFOD? We have lots of different ways you can get involved such as:
In the parish – where you will be supporting communities globally who are living with injustices and in poverty.  At Ealing Abbey, we support CAFOD through the Justice and Peace group.  Please phone the parish office for more details.
In local schools – where you'll deliver assemblies and workshops about CAFOD's work.  No experience necessary. Full support, resources and regular training provided. DBS Check & references part of application.
Coordinating volunteers to help us support, encourage and bring together a small group of volunteers.  If you'd like to know more, please get in touch with Tony at tsheen@cafod.org.uk
MARY'S MEALS South Sudan appeal*
We urgently need your help to serve our nutritious meals in more schools in South Sudan where    2.2 million children are out of education – the highest rate in the world.  Education across the country has been drastically hindered by years of violence and upheaval, resulting in deep poverty and internal displacement. Life for families is a real struggle, with survival often taking priority over children attending school.  Please visit marysmeals.org
Mary's Meals now feed 2 MILLION children
around THE WORLD
£15.90 to feed ONE child for a WHOLE year
We feed school children in 19 countries.
If you are concerned about someone sleeping rough in London, the link below will give you information as to how to refer the person you are worried about.   Or you can contact Krysia (pastoral coordinator on 02081942302) in the parish office.  We occasionally have visitors to the parish, or contacts with people about to be made homeless, or already homeless, asking for help in finding accommodation.  STREETLINK is our parish 'go-to' invaluable charity that actively finds and helps homeless people to get a roof over their heads, and beyond . . . link below!
What does Dads House do?  We support single fathers struggling to cope with the challenges of single parenthood by providing practical advice, appropriate aid and emotional support.
 We aim to ensure all children remain the priority after divorce, separation or bereavement. The many challenges single parents face, particularly fathers, in providing care for their children guides all the work that Dads House undertakes.  Our activities are varied and constantly evolving to ensure we can meet and adapt to the requirements of those in our community.  
OUR Services: Family Law Clinic, Drug & Alcohol Testing, Mental Health Programmes, Football Five-A-Side, Refugee Nights, Buddy Service, Lunch Club, Food Bank, all-inclusive family support Since its inception, and due to the support of our donors, partners, suppliers and volunteers, we have helped over 10,000 fathers regain their lives and able to support their families again.
As one of the few organisations supporting single fathers, we are proud to provide a haven for those men in desperate situations, and to be changing the conversation around single parenting support.  More at   www.dadshouse.org.uk
The following organisations will provide free, independent and confidential budgeting and debt advice.
Telephone 08003280006 to find debt centre nearest to you
NATIONAL DEBTLINE 
Freephone 08088084000, Monday to friday. 9.00am-1.00pm
Freephone 0800197026 Monday to Friday 9:00am – 5:30pm
Call 08001381111 (Monday to Friday 8.00am-8.00pm, Saturday 8.00am-4.00pm)

CITIZENS ADVICE   to search for a local bureau
CITIZENS ADVICE ONLINE   to try their online service
WORKING, JOBS AND PENSIONS
TURN 2 US
Benefits search, grants search and information and resources on income maximisation.
free Housing Advice Helpline, telephone 
Winter is here … 
if you have identified a rough sleeper, and feel you would like to help, then please read the following important information:
if you would like more information, or to report someone sleeping rough at nigh, please contact STREETLINK by clicking below:
streetlink@homelesslink.org.uk
THE PASSAGE

The Passage is raising funds for their work helping the homeless during winter. You can give via the link below:
The Passage 40 years of service to homeless people. To mark 40 years of service to homeless people this Lent we have produced 40 reflections for Lent each marking a year of service and reflecting on the needs of homeless people today. If you would like to share in our Lenten journey please contact Andrew Hollingsworth andrew.h@passage.org.uk tel. 020 75921886. We plan to distribute all materials electronically in the interests of being both environmentally aware and saving costs. If you do not have access to the internet we can send print friendly versions to a friend or relative by email.
Hope for Southall Homeless
'Hope for Southall Homeless'  are requesting donations of men's clothing.  ONLY items requested in the list below, please.  Also, please make sure they are clean and in fairly good condition. 
 
ITEMS NEEDED:-  Joggers (Size m/l),  Zip up hoodies;   Warm Jumpers;  Trainers  size 8/9/10;  Jeans. size 30/32/34;  T shirts  (but NO regular shirts with buttons, THANKS);    Winter jackets (Size m/l);  Underwear (Size s/m/l)
ALSO REQUESTED – SLEEPING BAGS, IN GOOD CLEAN CONDITION IN ORIGINAL SAC FOR EASE OF CARRYING.  If you feel you are able to donate any of the above, then please phone Krysia Carr on 02081942302, or email pastoral.coordinator@ealingabbey.org.uk with details of your contact number and item/s being donated.   THANK YOU!
TROUBLE HEATING YOUR HOME?
Westminster has become an accredited Fairtrade Diocese
The Justice and Peace Group share some good news:
That means over half of our communities are registered as Fairtrade Parishes, along with a number of Catholic Schools in the Diocese. We want to thank everyone who played a part in getting the awards for your Parishes and sustaining a commitment to fair trading for small farmers worldwide over many, many years. 
You can share this page with someone else: