The Procession of the Three Kings. 'ORSZAK' = Procession. 
On Sunday 8th January 2023 a ORSZAK Three Kings Procession took place. 
The procession will form on the piazza outside Christ the Saviour Church in central Ealing at 1:30pm and walk to Ealing Abbey for a short service on the steps to the Church at 3:00pm.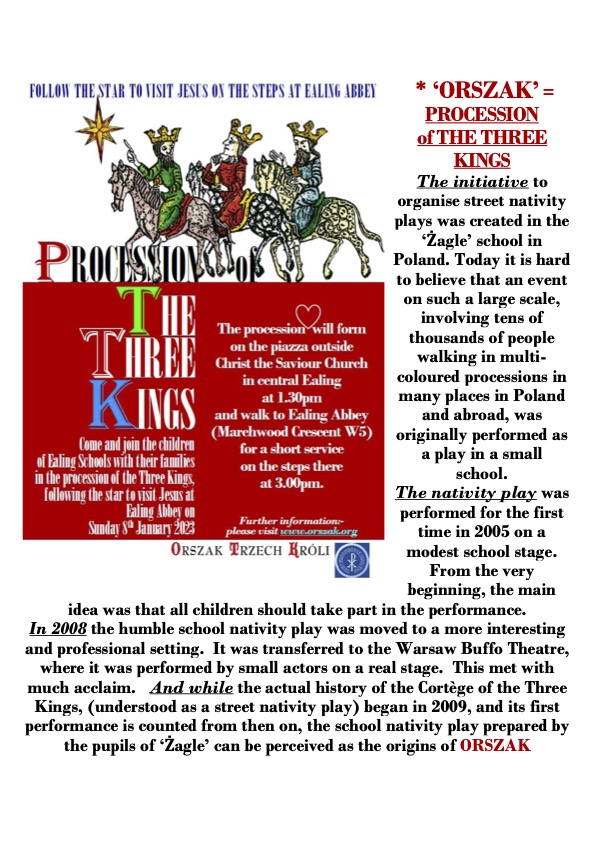 The initiative to organise street nativity plays was created in the 'Żagle' school in Poland. Today it is hard to believe that an event on such a large scale, involving tens of thousands of people walking in multi-coloured processions in many places in Poland and abroad, was originally performed as a play in a small school.
The nativity play was performed for the first time in 2005 on a modest school stage. From the very beginning, the main idea was that all children should take part in the performance.
In 2008 the humble school nativity play was moved to a more interesting and professional setting.  It was transferred to the Warsaw Buffo Theatre, where it was performed by small actors on a real stage.  This met with much acclaim. 
 And while the actual history of the Cortège of the Three Kings, (understood as a street nativity play) began in 2009, and its first performance is counted from then on, the school nativity play prepared by the pupils of 'Żagle' can be perceived as the origins of ORSZAK.
You can share this page with someone else: